Have you officially decided to open a restaurant? Has this been something you've been thinking about for years? Are you finally in a position to make these dreams come true?
Look no further, because these goals can be achieved. Although, even with the amount of support and encouragement you've received, or how many times you've been thinking about your dream concept, proper planning is prominent for the success of your venture!
This is where a restaurant business plan is needed. To be specific, a restaurant business plan is the primary framework where you can gather all of your ideas together – from your layout, menu design, food offerings, vision, management and more.
However, writing a business plan is much more complicated than following a template or copying someone else's example. Attached below is our proprietary restaurant business plan outline that GoBusinessPlans uses when we create business plans for our clients. You'll find everything you need to know, plus some samples and tips, to write your very own restaurant business plan.
Main Components of a Restaurant Business Plan:
Executive Summary

Company Analysis

Industry Analysis

Market Analysis

Competitive Analysis

Marketing Plan

Operations Plan

Financial Plan
Importance of Writing a Restaurant Business Plan
Although composing a well-organized and thought out restaurant business plan is not something many aspiring restaurant owners do, as the process can be difficult and time consuming, writing a restaurant business plan is crucial as you'll have a larger chance to get your restaurant funded by investors. Even if you do receive funding without a business plan, you'll need the right mindset to get started – and that's where a writing your own plan comes in!
Chapter 1: Preparation
Several hours of planning and preparation are required for a restaurant business plan, as it's helpful to take time doing research before sitting down to write it. Specifically, new restaurant owners should focus on the following areas to research before writing their business plan:
Industry

Market

Financing

Marketing

Organization

Competition
Industry Analysis
First, you must figure out what industry your business is operating under. This will help you better understand your industry, as well as the rest of the components needed for your restaurant business plan. As the most important first step, the industry analysis will highlight: ways of reducing business risks, industry trends, estimated capitalization requirements for your restaurant, and product and service trends. In summary, the industry analysis will showcase the opportunity.
Startups will benefit from the research for the industry analysis portion of the business plan, because it will help owners decide what direction to take when it comes to marketing, financing, hiring and more!
Major components of the industry analysis include:
Current Industry Performance

Economic Characteristics of the Industry

Industry Outlook

Key Trends and Drivers of the Industry

Industry Products and Services

Potential for Growth within the Industry
We utilize several websites and tools to find the above information for the industry analysis. Some of these resources include: IBISWorld, BizStats, US Census Bureau, FreeLunch and Hoover's Online. An industry analysis differs from a market analysis as well as the competitive analysis portion of the business plan in the sense that it helps restaurant owners understand who their target market could be. The industry analysis will also describe the products offered within your specific industry in addition to determining the bandwidth of the market.
Clients hiring our business plan writers receive complimentary access to these reports and tools.
Figure 1: Industry Snapshot Example

Market Analysis
Market research gives restaurant owners information about their customers, and the markets that their restaurant will cater to. By analyzing this information, restaurant owners will be able to provide products and/or services that are desired and competitive. For restaurant owners, market research can help create strategies for the rest of the business plan and life span of the restaurant.
Figure 2: Major Market Segmentation Example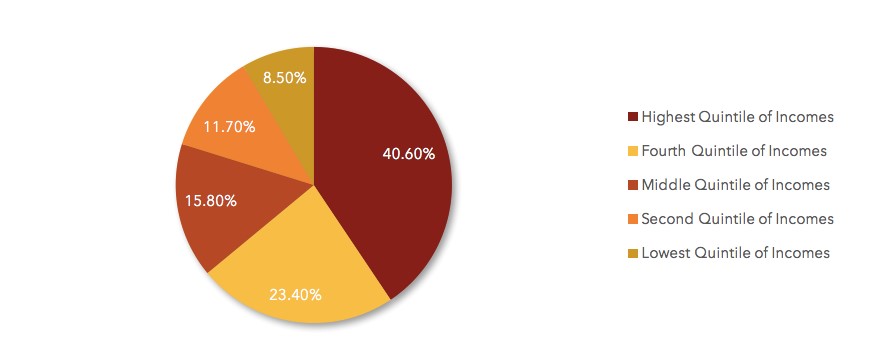 The information collected for the market research portion of your restaurant business plan should include:
Who Your Customers Are (Age, Education, Career, Beliefs, etc.)

Location Demographics (Population, Income, Consumer Spending, Consumer Behavior)

Price Range

What Consumers Like/Dislike in Competitors

Potential for Breakthrough into Other Markets
Figure 3: Consumer Behavior Example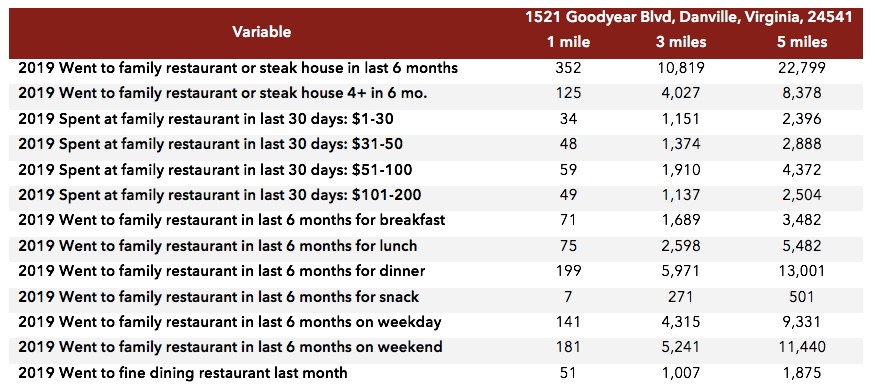 No matter what tools you used to find the data for your restaurant business plan (online sources, interviews, books, etc.), you will want to make sure to follow the steps below to maximize your market research:
Identify what you want to learn or find out. Be specific.

Have follow-up questions.

Identify the target group for your research.

Select the most effective tool for obtaining the information you need.

Analyze the results of your research.
Competitive Analysis
Although it's easy to assume everyone in your location will visit your restaurant, it is still important to research your competition to make this a reality. Some questions to think about are as follows. What restaurants have established a loyal following in the area? How much do they offer their services? What are their operating hours? What does their restaurant look like, aesthetically?
By writing a competitive analysis, you will be able to identify and detail key competitors to the restaurant. This will allow you to determine how competition will react to the new restaurant entering the industry, as well as help you set your new restaurant off from the crowd. A competitive analysis also offers a detailed profile of each competitor including the competitor's strengths and weaknesses instead of the general competition in the restaurant industry.
The competitive analysis for each primary competitor should include:
Company Overview

Geographic Location(s)

Contact Details

Website

Menu Items

Price Points

Reviews and Testimonials
Information on competitors is most accessible via the internet; however, additional information can be found in news stories and press releases, advertising, patent and copyright applications, annual reports and SEC filings.
Gathering information about a competitor can sometimes be difficult, and most of the time, in-depth strategic searching may be required. On the other hand, information gathered about competitors in your area may not seem extensive. However, even the smallest bit of information can help you determine how to compete against other similar restaurants. After taking note of these factors, explain to your investors how your restaurant will be different.
Figure 4: Competitive Analysis Chart Example
Something Special Restaurant and Lounge
Company Overview
Something Special Restaurant and Lounge is a leading, highly professional and upscale restaurant and special events venue in Danville, Virginia. Positioning itself as more than just a regular restaurant business, it has established a unique opportunity to create a sought after venue and destination for cuisine and entertainment.
Location and Contact Details
401 South Ridge Street, Danville, Virginia 24541

(434) 799-1111

Website
https://www.somethingspecialrestaurant.com
Menu Items and Price Points
Lunch Plates: $5 until 3pm; $7 after 3pm

Appetizers: $5 – $9

Entrées: $7 – $22

Sides: $3.50 each

Desserts: $3.50 each

Beverages: $2 – $3

Alcoholic Beverages and Price Points
N/A
Reviews
Facebook: 4.8 out of 5 stars, 49 reviews

Yelp: N/A

Google: 4.4 out of 5 stars, 41 reviews

Testimonials
"Great place, great food, great atmosphere. I came to visit family from CT and we visited this place 3 times while I was in town, couldn't get enough of the great food and service we received, highly recommend this place!"

"Very disappointing service, husband was shorted on his portions, not all food was hot, mother in law never even got her food in the hour that we were there. Reasons were given for the lack of service but doesn't change the experience."
Chapter 2: Essential Elements of a Restaurant Business Plan
Each restaurant business plan is unique to the concept surrounding it. Most restaurant owners think a restaurant business plan should be written solely to raise money; however, restaurant business plans can serve multiple purposes depending on the audience intended.
Restaurant business plans can either be lengthy or brief, detailed or concise. For example, a new restaurant may want to include more details to show their projections year by year, while a more established restaurant may just want a restaurant business plan to include how they are looking to expand.
There are also oftentimes external facing restaurant business plans for potential investors and internal facing restaurant business plans for restaurant owners only. Whether you want your plan to be short, long, internal or external, most restaurant business plans have very specific pieces.
No matter what type of restaurant business plan you are writing, adequate planning and essential elements will be sure to help you succeed.
Chapter 3: Executive Summary
A restaurant business plan should begin with an executive summary, as it is meant to inform the reader about your restaurant. Not only does the executive summary acts as the introduction to your restaurant business plan, but also a general, but informative summary of your entire idea.
Specifically, it should explain what your restaurant's current status is, future goals and projections for your restaurant, and how the restaurant plans to be successful. In your restaurant business plan, which is usually created for investors, the executive summary if the first opportunity to make your restaurant of interest. Instead of having to comb through the entire restaurant business plan to gather all the information, investors can instead look through the executive summary.
Oftentimes, it is easier to write your executive summary after you have already completed the rest of your business plan. The reason for this is because you will already have become familiar with the strong points of your restaurant in addition to the most important points that should be highlighted in the executive summary.
Below are some suggested segments to include in your executive summary, though these may change depending on what is included in your restaurant business plan.
Brief Overview

– What is your restaurant?

Company Information

– Restaurant founder(s), restaurant founded date, location(s), etc.

Mission Statement

– Why does your restaurant exist?

Products and Services

– What is your restaurant offering to customers?

Highlights

– Do you have any notable achievements so far for your restaurant?

Financial Information

– How much does your restaurant requires and what will it be allocated towards?

Future Projections

– What are your restaurant's goals, and what direction will it go in the future?
While concise, the executive summary can sometimes be the most crucial part of the restaurant business plan because of its need to capture its reader's attention. So make sure to highlight all of the most important parts of your restaurant business plan and set the stage for what comes next!
Lastly, make sure to write the executive summary with your particular audience in mind. Depending on who you are trying to attract with this version of your restaurant business plan – either from investors to employees – make sure your executive summary will speak to who you are expecting to read it.
Chapter 4: Company Analysis
The company analysis is the portion of the restaurant business plan where you can fully introduce your restaurant. Specifically, a company analysis will be an overview of the restaurant, including its founder(s), owner(s) and management, restaurant history, products and/or services, target markets, and how your restaurant plans to introduce itself into the marketplace. The company analysis can usually be anywhere from one to five pages, depending on how many facets of your restaurant are necessary to detail, though one to two pages is usually sufficient.
You can begin this portion of your restaurant business plan with just a few sentences – similar to an elevator pitch – to get the reader interested in learning more about your restaurant. Be sure to mention whether your restaurant is a startup or is expanding. The company analysis should then include your restaurant's structure, such as whether it is a corporation, partnership, sole proprietorship, or limited liability company, and who is directly involved in the restaurant and how the restaurant benefits from them being involved. The company analysis should then end with specifics on how the restaurant plans to be profitable.
Suggested segments of a restaurant business plan's company analysis includes:
Overview

– What is your restaurant? What is your history? What is your mission? What is your vision?

Concept

– What is the square footage? What will the restaurant look like? What are your restaurant's features? What is the aesthetic you're envisioning?

Market Opportunity

– A brief overview of your restaurant's opportunity in the industry. Showcase why the restaurant will succeed in the market.

Menu Sample

– What services or products are you offering?

Business Model

– How will your restaurant generate revenue?

Value Proposition

– What makes your restaurant stand out against competitors?
Menu
One of the most important elements to launching your own restaurant is the menu, as it displays the products and/or services you're offering. Sometimes, new restaurant owners do not have a full version of their menu concept, however for a restaurant business plan, it is suggested to design a mock up; this will give investors an idea on what you will be offering.
Figure 5: Menu Example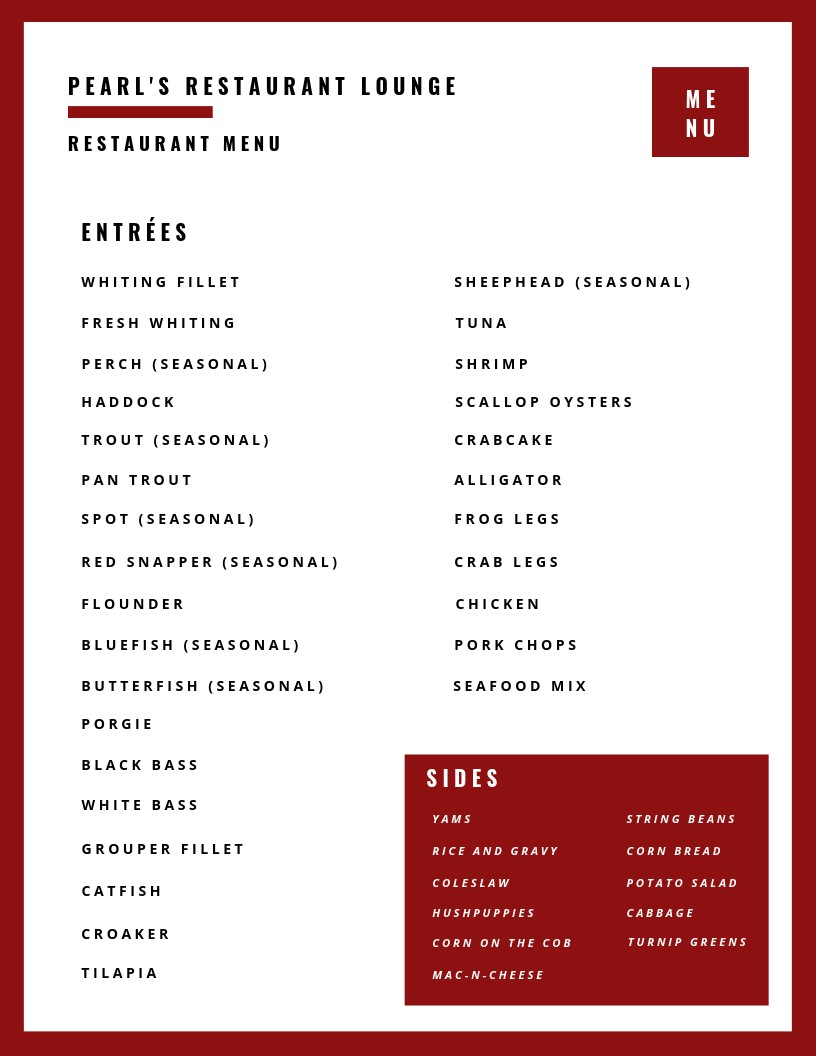 Chapter 5: Industry Analysis
After researching data on your industry, you can incorporate that information into your restaurant business plan. Doing the research on the industry first allows you to figure out what the risks and opportunities are for your new or continuous restaurant. The information you will include in your restaurant business plan allows you to develop strategies while making sure to do best in avoiding any potential risks.
The industry analysis of your restaurant business plan should include the following:
A brief overview of the industry.

Explain the industry's historical background and locations of the operation.

Common trends and growth patterns that have existed over an extended amount of time.

Industry influences including but not limited to government and competition.

Both short-term and long-term prediction for growth in the industry.

How your restaurant will position itself within the industry.
Chapter 6: Market Analysis
This section of your restaurant business plan should describe the market that your restaurant will operate within. Similar to the industry analysis, you will include the research and data you collected before you began writing your restaurant business plan. This specific portion of the plan should give an overview of the marketplace, where your competitors are positioned within that marketplace, and facts that support your restaurant being introduced into or continuing to operate within that marketplace. In summary, you will need to go into detail about both the micro and macro conditions in the area you wish to establish your restaurant.
Below, you'll find some must-list topics for your market analysis:
Recap of the industry and description of the market (can include projected growth and potential changes in consumer demand).

Description of who your customers are, including detailed demographics.

How big the market is that your restaurant will operate within.

Pricing of both your restaurant's products and/or services as compared to its competitors.

Any relevant and topline data that you collected in the competitive analysis.
Chapter 7: Competitive Analysis
Though your restaurant business plan is all about your restaurant, the competitive analysis displays how your restaurant compares to others in the industry. While it can be difficult to determine how your restaurant will compare to others, this is an important factor of the restaurant business plan because it will support your restaurant's mission, products, services, and goals against the other establishments that may be similar. This may also be the section that requires the most sleuthing in order to find how your restaurant compares to others.
Four things that every competitive analysis should include are as follows:
A list of your top 3 competitors, which can be arranged in several forms from paragraphs to charts.

Competitors' names, locations, products/services, contact details, website, overview, reviews and testimonials, sales volume, market share, pricing information, market strategies, etc.

Competitors' strengths and weaknesses with analysis of how they compare to your restaurant's strengths and weaknesses.

Detailed description of your restaurant, your restaurant's role in the marketplace, and how your restaurant can compete.

Your restaurant's competitive advantages.
Chapter 8: Marketing Plan
The marketing plan section of your restaurant business plan attracts customers who may be willing to purchase a product or service from you and your restaurant. With the marketing plan, investors will want to know how you plan on marketing your restaurant. Once you understand who your target market is, then you can strategize on how you will reach that market. Further, you need to make sure you highlight how your marketing campaigns will differ from what is already being done by others. How will you provide for your customers? Make sure to list all your marketing initiatives.
GoBusinessPlans primarily divides marketing initiatives by Digital Marketing Campaign and Direct Marketing Campaign. Both separate marketing strategies initiated via digital or traditional platforms. Marketing plans usually include the below strategies as well:
Penetration Strategies

– How your restaurant will initially kick off.

Growth Strategies

– How your restaurant will build upon the success of a product or service by introducing it to different users or into new markets.

Alternative Sales Strategies

– How your restaurant may distribute its products or services in different ways than its sole distribution process in order to boost sales.

Communication Strategies

– How your restaurant will communicate, whether digitally, face-to-face, or other in order to maintain a loyal customer base.
Figure 6: Marketing Channels Example
Keep in mind that your restaurant's marketing strategy will oftentimes have an effect on other aspects of your restaurant business plan. For example, a target market may change a bit when looking at alternative sales strategies.
Chapter 9: Operations Plan
The operations plan of your restaurant business plan is one of the most vital sections. Without the operations plan, your restaurant would not run, because you need to know exactly who is doing what, and when, and where.
This section is also crucial, because not only does it show investors that you know how to run a business, but it will also help you throughout the span of your restaurant's life as well as your future managers and employees to reference for any operations related questions or concerns. In other words, the employees covered in the team and management plan section of a restaurant business plan should be able to reference the operations plan for anything related to the inner working of the restaurant. Therefore, this section should be filled with details and instructions that will direct employees within the organization in the day-to-day of the business. Additionally, the operation plan section should begin with an organization chart showing the title, duties, responsibilities, and supervisory role of each member of the restaurant.
Depending on the purpose of your overall restaurant business plan, the operations plan may be able to be cut or expanded.
Figure 7: Organizational Chart Example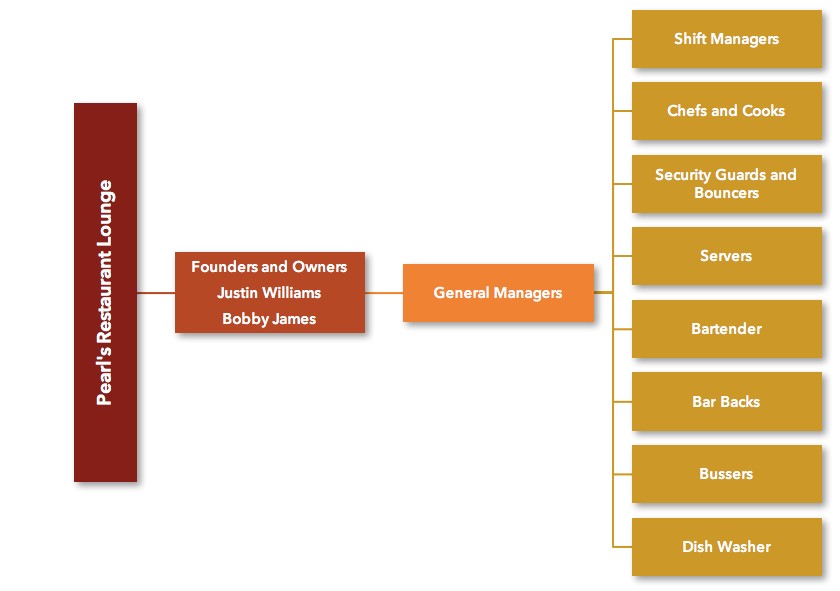 Chapter 10: Financial Plan
The financials section of the restaurant business plan gives readers an idea of both the past and potential future for your restaurant as far as money goes. Already established restaurants should include financial data of past performance, and most banks, venture capitalists, or other lenders will want anywhere from three to five years of historical financial data.
However, whether you are an already established or a brand new restaurant, the financials section of your restaurant business plan must include projections of future financials for your restaurant. These projections must include data that has been collected in order to support the projections, and is often the most critically looked at by investors and banks. Therefore, make sure to do your calculations more than once or twice to ensure the best educated financial forecasting. Financial forecasts should include statements of projected income, balance sheets, cash flow statements, and capital expenditure budgets.
In addition to the data that you will use to support your financial projections, all information in the financial portion of the restaurant business plan must be able to be verbally explained. People outside of a venture want to see that you can both wisely and accurate write and speak about the money that will be attached to your restaurant. Finally, because there will be a good amount of data, sometimes it is helpful to include an appendix specifically for finances.